TGIF everyone! So, I'm not going to miss a beat, and I'll jump right into the post as if I've not been MIA.  About a week ago (hits schomney dance) I stormed NYC for desksides (defined below if you're unfamiliar).
Deskside
–noun
1. Meeting with an editor/journalist at their desk.
During desksides, PRos present client offerings, collections, story angles, etc. Publicists and (our) clients thrive because of relationships, and desksides serve as a way to encourage and stamp them. This meeting style isn't industry specific; they're relevant across the PR board.  Technology's taken the place of in-person engagement – we live by email – so desksides allow for genuine conversations and connections with those we're in constant contact with. I chat regularly with editors/stylists (most of which I've never met), and since I'm currently DMV-based, I don't have the luxury of regular post-work dates, so my goal was to milk these meetings and (hopefully) make an imPRession. 
Despite the term, you aren't limited to an editors' desk; desksides are held at a coffee shops, over dinner – basically anywhere convenient for the journalist. Yes, it's always about catering to the journalist. I scheduled meetings and dinners with long lead editors to PResent clients' FW15 offerings for fall book consideration. In addition to meetings, I gifted the editors I was unable to meet with pieces from previous collections.
I hit up all the majors – Conde Nast, Hearst, Meredith, (Time Inc. shaded me, which is the norm) – and stopped by Refinery and Huffington Post outfitted in black, fringe fabulousness days 1 & 3, and a cream moment day 2. I didn't appreciate the brisk temps, either. I actually had to stop and buy gloves off the street…in April! I'm not a style blogger, so I don't have pics of my looks, but know they were compliment-worthy. Publications visited and editor names are intentionally omitted (aside from the obvious), because I spill just a little tea.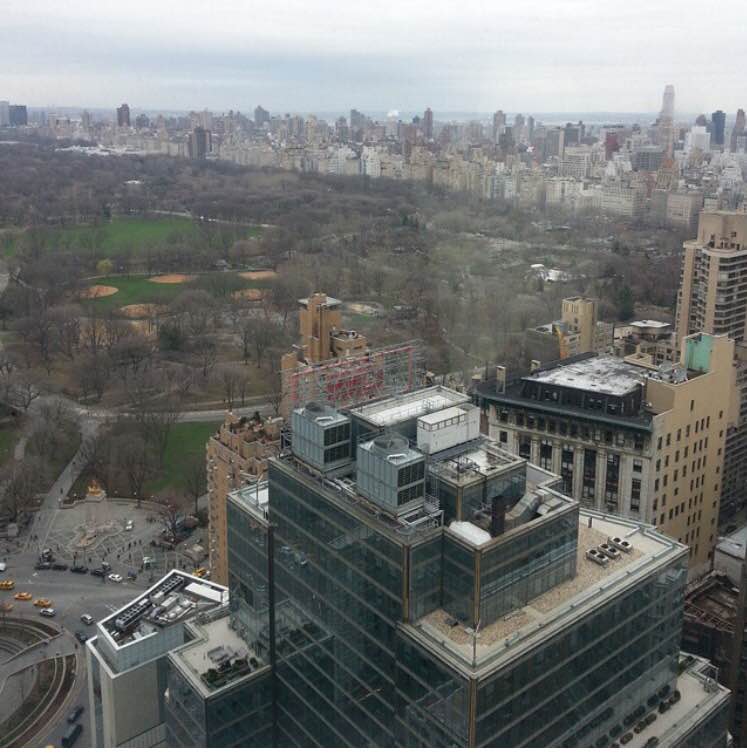 Loved this view from floor 30-something overlooking Central Park.
Meeting moods varied from upbeat and informal, like a business chat with a good girlfriend (ideal scenario), to straightforward. Once I gauged the vibe, I proceeded accordingly. At one meeting there was casual convo about the weather, (editor initiated) F-bombs, fashion tea and tons of laughs over baubles, while another deskside was by the book; "Thanks so much for having me. *lays out samples* (client) FW15 collection boasts 14k gold and energetic properties, and priced from $50 – $400, the brand is super accessible for your reader."  Desksides are typically pretty short, lasting 15-30 mins tops, though I had so much fun at one it lasted well over an hour.
Now, the real way to an editors' heart is with dinner and drinks. I mean, you can't help but to bond over good food, spirits and fashionable shade. I had a fab time with editors I'd never met, and we were besties by dinners' end – at least, the buzz led me to believe so. I definitely prefer coffee/dinner meetings over the office setting.
I successfully completed my first deskside tour of the year, and I have a few tips below so you can, too:
Print out several color copies of look-books/line sheets or any marketing material to leave with the editor. Print several copies, as you may meet with more than one editor per meeting.
Plan to be in the area at least a 1/2 hour early. NYCMTA is unpredictable, and knowing so I left my room 1.5 hours ahead of the meeting to account for any subway delays. Once you're in the city, you're good, because the offices are in close proximity.
Wear or pack comfy shoes. Unless you/ your company is bourgeoise and rolls with car service all day, you'll be walking. A lot. Put your heels once you arrive.
Come prepped and knowledgable about the brand. No brainer, right?
Be friendly and engaging. Try to make the meeting as conversational as possible.
Leave a gift and thank you note. Editors are busy, so it's important to be gracious when one takes the time out of their schedule to meet with you. Leave them with client samples if applicable. I stalk check Instagram to get a feel for their style to make I choose the perfect gift.
Follow up after the deskside thanking them again for meeting, attaching a digital look-book for convenience.
Personal takeaways:
Print is dying (which we're all aware of). Magazines are folding, and editors are genuinely concerned about job stability. I was surprised by how forthcoming some of them were with their job concerns.
Editors are overworked and underpaid. Thanks to layoffs and buyouts, publications have condensed, titles merged and the workload's increased; can't say the same for salary, though. I suppose being gifted regularly makes up for it.
While most covet the "glamorous" life of a fashion editor, surprisingly, they envied mine commenting, "You're so lucky you can do this from Maryland! Can't wait to settle down in the suburbs and have some babies." I wasn't really expecting that. Serious perspective; the grass isn't always greener, and because I've lived the NYC hustle both solo AND with an infant, I can attest to that.
Overall, the trip was cute, and since my return, it's been all about follow ups, and leveraging my desksides to create new opportunities for clients. We'll see what's what (if anything) come fall!
Nikki, xoxo