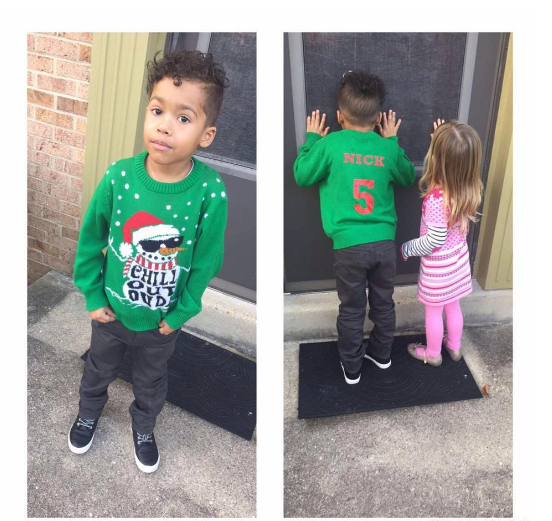 Merry Birthday and Happy Christmas to PRince Nick! Today marks his 5th birthday, and I'm really trying to figure out where five years went. Swear it was just yesterday that I marveling over the fact I had him on Christmas day, and how I managed to birth two babies on holidays (Teen Bae is a Halloween baby). Wasn't I just recovering from the c-section from hell, nursing and running around NYC with a 6-month old on my hip? And now I've got a lanky, cheeky, witty, Pre-K puzzle master.
We've been anticipating the big day, and had a week long celebration, starting with a birthday party at Climb Zone the Sunday before Christmas.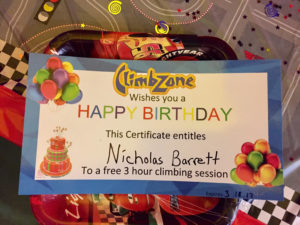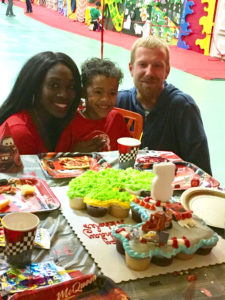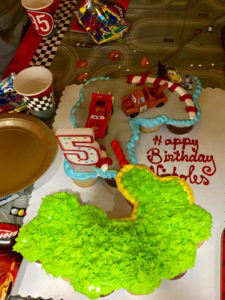 I spent the birthday/Christmas morning look at baby pics (in our Mommy X me Santa PJ's), while reflecting on how much Nick has grown, what a wonderful child he is and how he's changed our lives for the better. I'm (faux) blogging because of Nick. His Dad and I got married in March (17 years and 2 kids later – but that's another post) because of him. I even co-founded a thriving mommy organization this year because God saw fit to bless and entrust me with Nick's life. But let me not get too deep and side tracked.
We kept his bday/Christmas look holiday festive, but pretty "chill".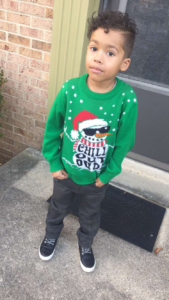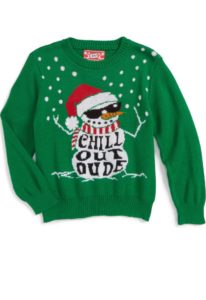 Jem "Chill Out Dude" Sweater via Nordstrom (No longer available. Sorry)
Loved this Jem "Chill Out Dude" Sweater from Nordstrom. It wasn't my first pick, though. I purchased a sweater from Abercrombie Kids, went to have it customized with "Nick 5" on the back and the screen printers botched it, placing the "5" backwards. Talk about livid!
So this shirt was a last resort, and it was purchased and customized the day before his birthday. Yea, I wasn't impressed with the shenanigans at all. Just like I'm sure you're  unimpressed with the microscopic pic below of his custom sweater, but it's the best I've got.
We completed the look with skinnys and high top sneakers from Old Navy.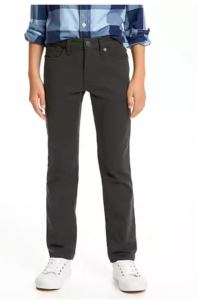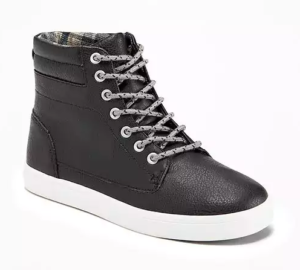 So I was scrolling IG, and saw a fellow mommy blogger use each letter of the alphabet to describe her child and commemorate their birthday. I thought it was a great way to recap moments, attributes, events, strengths, etc., so I'm following suit. Get into the ABC's of PRince Nick.
A- Awesome. Nick really is the most awesome little dude.
B- Burger Dates. Burger Joint is our favorite restaurant, and weekend burger dates, followed by a trip to the library, 5 below or the mall for some window shopping and smoothies. I love our quality time.
C- Conversations. The things that come out of the mouths of babes. We have the most hilarious, profound, shady conversations. I love this age.
D- Dramatic. Nick is about a performance, and he doesn't care when or where it takes place.
E-Everything. He truly is my everything.
F- Fun. Nick loves to have fun. As most kids do. I'm guilty of working. A lot. And he'll walk up and say, "Mommy, this is boring. Is it time to have fun yet?" And when he says that, I stop whatever I'm doing and find something fun for us to do.
G- Games. Nick is always on game time. He's truly his father's child, and it's actually starting to backfire. If he isn't straight forward with me, and ends up not getting something he really wants, too bad. I can't entertain games when it's not playtime.
H- Hair. Nick's hair is still taking me through changes, and we're still trying to perfect his signature look. It's very different from JB's. It seems the older he gets, the straighter it gets. His hair also gets tons of compliments, and is the ultimate conversation starter. Sometimes I'd rather not have those conversations with strangers, because they tend to be quite ignorant, actually. Black hair/white hair, good hair/bad hair types of convos. But, again, that's another post.
I- Intrigued. Nick is a very curious little boy, and asks tons of questions, some of which I can't / don't want to answer.
J- Jesus. We talk about Jesus a lot, and he loves that he and Jesus share a birthday.
K-Keen. Nick is sharp. He picks up on things quickly, and if interested in something or someone he's all in.
L- Laugh. Nick's laugh cracks SB and I up. And he has a slightly ratchet sense of humor. He laughs when people misbehave, get in trouble or when something bad happens.
M- Mischief. Nick is mischievous thing! He's always up to something.
N- Nicholas. When he was born we didn't have a name for him, and since he was born on Christmas, SB said, "Man, let's just call him Nicholas. Like, St. Nick." And it was done.
O- Oranges are one of his favorite snacks.
P- Paw Patrol is life right now. Paw Patrol toys, books, puzzles, underwear, you name it!
Q- Quiet. He's never, ever quiet. We have to remind him to use his inside voice.
R-Run. Nick can run! Really, really fast. He's attended a few track practices, and is out here dusting eight-year-olds. While running, he chants, "I'm faster than fast," like Thomas The Train. Lol. He starts track in January. Who knows, he may become the next Usain Bolt!
R- Read. Nick is learning to read, and it's so exciting! Sadly, I don't recall much about JB's childhood, so I don't even remember how he learned, what his favorite books were, etc (that's also another post). I enjoy listening to him sound out words, and read his sight words.
S- Sleep. He hates to sleep. Bedtime is a shit show. A completely fail. And I'm to blame. Well, not really, but isn't it always mommy's fault? I'm happy if he's in bed by 10pm. Oh, and we STILL co-sleep. He gets in our bed in the middle of the night. He's 5. *hangs head in shame*.
T- Teenage Mutant Ninja Turtles. He loves them. Truthfully, the cartoon is a little much, and he probably shouldn't watch it. But SB relives his childhood alongside him when he watches so I don't really have a say where TMNT is concerned.
U- Unimpressed and unbothered most of the time. He gets it from is mama.
V- Very smart. Nick's got some brains! He picks up things very quickly.
W-Witty, but sometimes his wit gets to be too much.
X-tra. He's SO extra. Again it's an attribute he gets from me. Nick is "that" child. Dramatics and shenanigans on deck. Always.
Y-Yummy. He loves yummy foods.
Z-Zany. Prince Nick can def be zany at times.