Snow. I loathe snow and cold weather with every fiber of my being. Yes, it's winter, and snow is an seasonal attribute, but I don't care. I HATE snow, and I HATE winter. And snow means snow day. Like, my children will be home with me. All day. Today.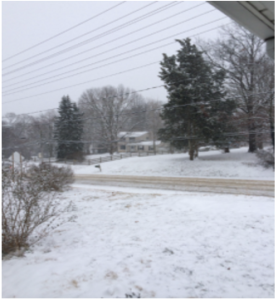 I have no use for snow. I'm not a kid; I'm not going to play in the snow (willingly). Hell, I don't even want to look at it. Snow days are counterproductive – they encourage laziness and overeating, and result in cabin fever and misbehavior. Simply put,
Snow days are stupid.
I love my boys and spending time with them. But I also thoroughly enjoy the time they're at school, even though I'm working and tending to home. We've been snowed in since Saturday. Food's getting low. Patience is limited. We've played board games, read stories and sled in the yard. Only 1/2 a bottle of wine remains.
The news broke Sunday evening that schools were closed on Monday, and my hopes for PRoductivity were no more.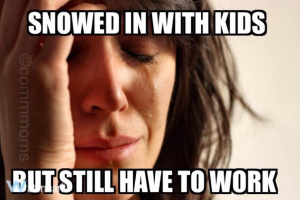 See, the thing about being a publicist is the weather is a non-factor, as we work virtually, primarily. I still have multiple projects and clients to pitch. S/o to the WAH moms who can twirl a task with the kids home.  Try as might, if Nick's not distracted, he distracts me. I work in 30 – 1hr intervals. SB and JB (Dad and big brother) are Xbox and iPhone consumed AKA useless.  I'm re-prioritizing today's tasks – I have a to-do list to pummel through!
Nick: "Mommy, I need Cheerios and Coco Puffs and bacon and milk in my yellow cup, please!"
JB: "Mom, can you drive me to McDonald's?" Umm, no, I'm not leaving the house, especially not for that. *JB rolls eyes* "Well, can I have use your card to order pizza? Pizza? At 9:30am??
Damn you, Mother Nature, for showing out like this. I've started Nick's fave episode of Blaze more than 5x's, made breakfast, ordered pizza, popped popcorn, vacuumed Cheerios, broke up an argument between JB and Nick (Yes, 15-year-olds and four-year-olds do get into it), dried tears, played with trains, built a lego castle, given Nick up and down hugs and it's only 10:50. Long day ahead, and I foresee a(nother) late night to compensate for today.
Did I mention that snow days are stupid???