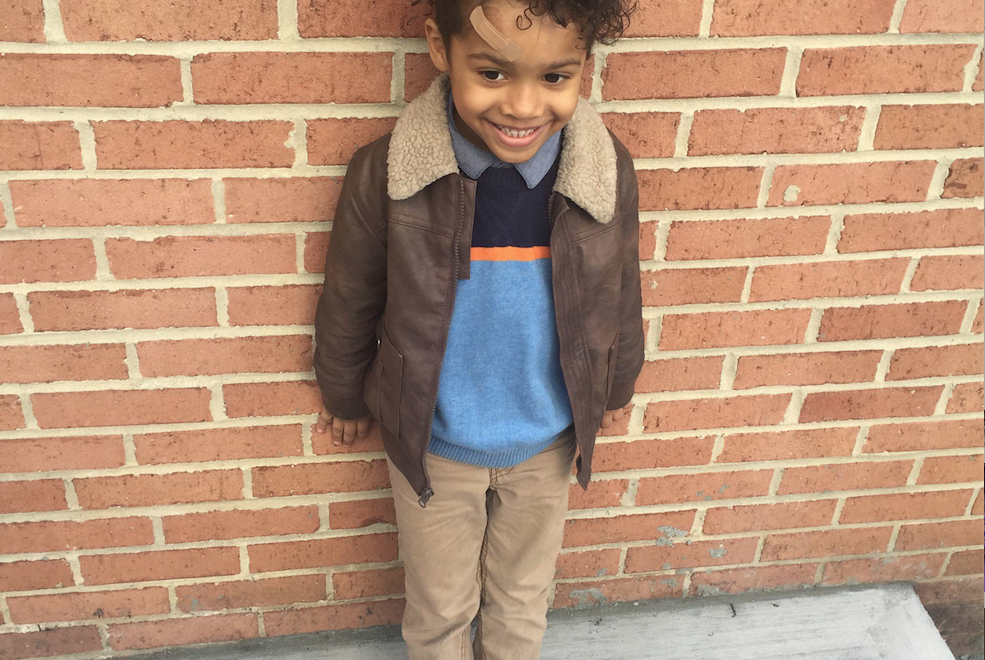 Hey, everyone! Hope you're easing into 2016 fabulously. Yesterday Nick and I spent the morning at church, where I work with the children's ministry ages 2-5. My high needs, attention seeking preschooler doesn't always accompany me to Sunday service for no other reason than it's difficult to tend to all the children AND Nick's shenanigans. He shows out, and gets jealous of me spending time with the other littles. Being that Nick is the reason I actually started working in with the children's ministry, I have to side-eye myself for not being able exercise the patience to tolerate him. But seriously, he TRIES it on Sunday, more than any other day of the week. But I decided that this year, Nick will (likely) attend church every Sunday I'm there, and he WILL behave, because he certainly knows better. He attends a Christian school, sits through chapel, learns his scriptures and receives an excellent daily report. Then comes home, and torments me. Because he can. Because I allow it. Kind of, but not really.
Before we get into the antics, let's talk about his Sunday style. And yes, we're still rocking the Ringworm bandaid. We kept things dressy casual. I layered a chambray button down under a color blocked Tommy Hilfiger sweater, paired with khaki cord chinos and lace up loafers from Osh Gosh, topped with faux fur collared aviator bomber from Target (that I absolutely love!). His socks are that same chambray hue, with orange stripes up the back.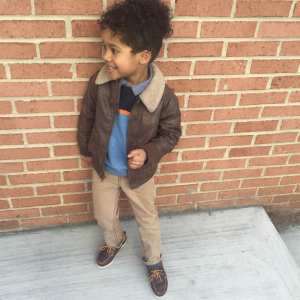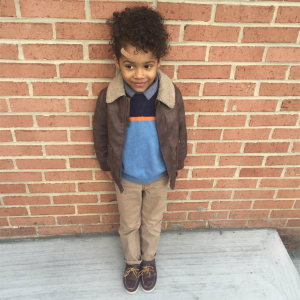 Get the look: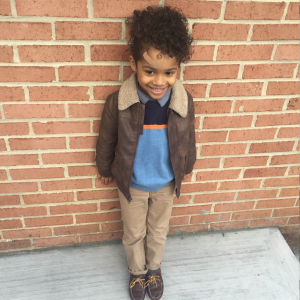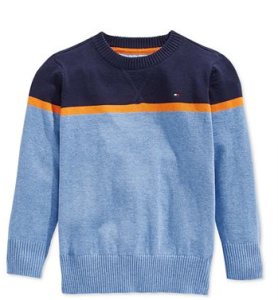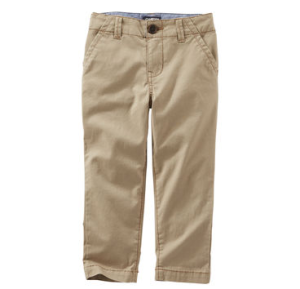 Chinos (Similar – Nick's are corduroy)
Sorry, couldn't find a picture of Nick's exact coat, but check out Target's outerwear shop for other options.
So, our morning started out rough. Nick refused to sit with the other children, and instead insisted on shadowing me while I tried to get the lesson together. I reminded him of the importance of good behavior, which involved listening to my directions. On cue, he immediately bursts into tears, asking for his father (why that's his go to, I don't know), and basically putting on a show that the other children and teachers have seen many times before. I inhaled deeply, and I took Nick in the bathroom for a stern talking to.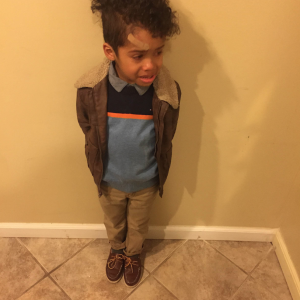 Telling Nick about his life in the bathroom
After reminding Nick of our earlier conversation about being big boy now that he's 4-years old, that we're at church to learn about God and have fun with his friends and that he will NOT get gummy worms after service if he doesn't shape all the way up, he calmed all the way down. We returned to class after a quick water break.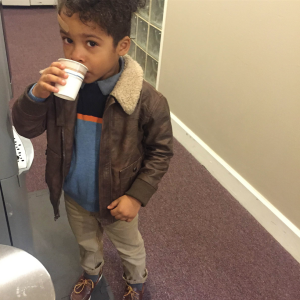 Thankfully, things were fairly uneventful after that.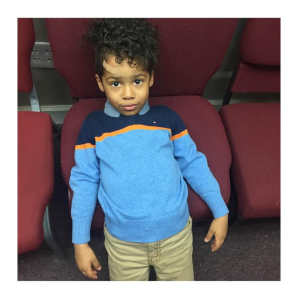 I made sure to recognize his good behavior throughout, which he was proud of and continued to display. At one point, he started snitching on kids who weren't behaving as well as he was. The shade of it all! Overall, he did well. I should probably head to Sam's Club to see if they sell gummy worms in bulk; I'm going to need them. No shame in my my bribe game.