When I launched this blog (the first time), one of my goals was to connect with, and create a COMMunity of bawse moms. PR is tough for the 20-something, entry level professional, but throw a family in the mix, and you may feel like you're losing it. And you probably are.
We're all trying to connect the work/life dots (myself included). Though no easy feat, it's doable, and I believe that hearing from women who've managed successful businesses with babies is the best way to draw inspiration and remain encouraged.
Kicking off our 2016 PRofile series is Christal Jordan, the principal behind Enchanted PR, a premiere entertainment based PR firm based in Atlanta, GA. Her impressive client roster (past and present) includes as TLC, Towanda Braxton, Grammy winning singer/songwriter Crystal Nicole, The Academy (DJ Drama, Don Cannon & DJ Sense) Kalenna of Dirty Money, BET's College Hill-Atlanta, PZI Jeans, NBA Player Jarvis Hayes and many more. And she's secured top tier placements in print and broadcast media like MTV, Fox, Oxygen and BRAVO. She's also a reporter and contributor for Rolling Out magazine.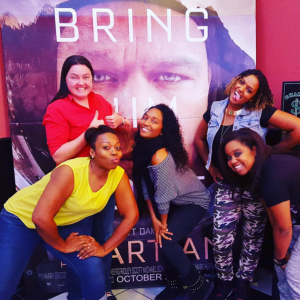 Christal funning with her client Chilli
We asked:
Agency, In-House, or Self-Employed:
I own Enchanted Branding & Public Relations a small boutique firm based in Atlanta, GA
Area of Expertise: Entertainment, Arts
# of Kids: 2
Which came first: Kids or Career?
I had children early. I had my daughter and got married in college. I had my son right after graduating college.
What's it been like adding full-time mom to your list of titles/duties?
I've been a full-time Mom since I've been an adult so I don't know what it would be like not to be a mother. I had an amazing mother that always put my brother and myself first, so I have always strived to be the kind of mother that I had growing up. I believe that children don't ask to be here and once you have them, they become your first priority.
How do you balance the PRofession with family?
It has certainly not been easy balancing profession with family. Like many women, I've had a super woman complex for years believing that I have to do it all, and be perfect at everything. That simply isn't possible. As an entrepreneur my kids heard, "Mom has to work" a lot and thankfully they understood. I had to leave them a lot, but I always made sure they were in good schools, and a great neighborhood so they would be less tempted to get involved with the wrong crowds. I also made sure they were active in sports and extra curricular activities.
Hands on or nanny?
I was always hands on, but I can't lie, I wish I'd had a nanny or some help to pick them up from soccer and cheer practice when they were younger lol.
What is the biggest PRofessional sacrifice you've made to accommodate your family? 
I believe that my career would be further if I didn't have children. There were a lot of nights I could've been out networking, when I chose to be home with my children. I would leave the office everyday by a certain time to make sure they had dinner and were able to make their after-school activities. This wasn't easy but I don't regret my decisions.
Describe a time when you put work before family?
I've  had to go on trips with clients sometimes and I'd have to find someone to watch my children. Sometimes I had to divide the time between two different people or their friends parents, but it always worked out. Still I felt like a bad Mom asking various people to watch my kids since I didn't have family here in Atlanta.
Is your family supportive of your career?
I don't have a big family. My mother and brother live in Colorado and I have cousins, etc in Ohio, but for the most part my children and I are here in Atlanta, GA alone. Because I had no family support system, my divorce was particularly difficult and the transition to being a single parent with no support system was extremely rough. Still we've made it, God was our family support system.
What are your Comm Mom essentials?
iPhone, laptop, Victoria Secret lip gloss. 🙂
Biggest PRofessional accomplishment?
I've had the opportunity to do some great national press runs. I also was able to secure two television placements for a client. One of those placements put my client on a cable network as a judge for an entire season of a new show, and the other had her on three episodes of a celebrity cooking show with Rachel Ray. Great opportunities that yielded great paydays and even more opportunities.
Lowest PRofessional moment?
I had to learn how to be an efficient leader, i.e. boss. A few years ago I had an employee sue me after being let go from my agency. It was hard because I cared about the employee, and although we had to go our separate ways, I look at my staff more as family than "employees". It was a learning lesson for me and had some consequences that taught me how to be a better business woman.
A time you put yourself first?
Three years ago I did something totally selfish for the first time since having my children and bought a horse. I've always loved horses and grew up drawing them and wanting to be around them all the time. I started taking lessons and decided to do something crazy and buy a horse. I bought an eight year old mare named Paris, and I've had her for 3 years. She has become baby of the family.
Words to live by?
My words to live by for today would be walk by faith and not by sight. I say that because my company is transitioning now and I am learning to do that myself. I also have personal quote that I used in my first novel, "the brightest rainbows are birthed from the darkest storms."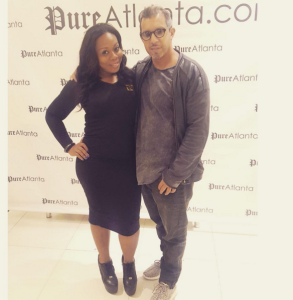 Christal werking an event with Coogi
Thanks so much, Christal, for sharing your trials and triumphs. I can absolutely relate to feeling badly for having to ask several people to watch your kids while away. Fashion week is next month, and I'm figuring out which family members will be able to help out with Nick while I'm away again for 11-days.
We often put our needs and desires on pause, so I LOVE that you bought yourself a horse ;-)!
If you know someone or want to nominate yourself for a profile, use the hashtag #CommMoms on all social networks!