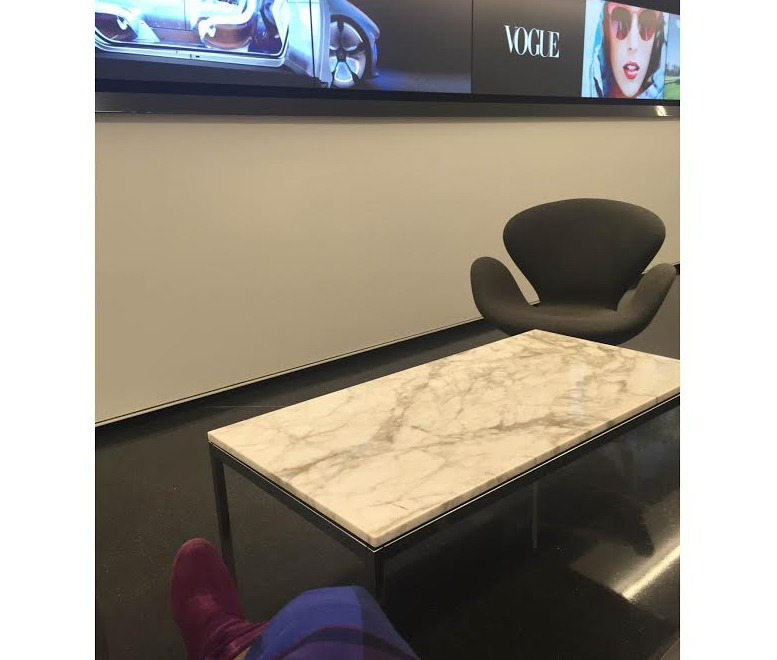 Hey, all! I'm headed home from one of my NYC day trips.  It's a 3-hour ride so I figured I'd go ahead and give y'all the PR tea early. I went up for a Vogue desk-side, and a meeting with a potential client. This was my first visit to Vogue's offices, so I was kind of amped. I brought one of our women's ready-to-wear brands for introduction to their digital associate fashion market editor, along with some of our accessories clients for the accessories editor. Today's meeting was a direct result of my fashion week gig with PRC. #StrategicMoves. See, what made the PRC gig so enticing (great pay aside) was the opportunity for daily face-time with notable fashion editors and influencers. I catered to them for a week straight, so naturally, by the end of NYFW we'd established some type of rapport. And when I followed up a week later from my contract and Osei PR email accounts, there was a clear reference point. "Hi, hope you're well! It's Nikki – black girl with the big hair who worked with Lexus and PRC. It was so nice meeting and hanging with you last week at the Lexus lounge." Or something to that effect. Because shade is ever present in fashion and PR, most follow up emails go ignored, but there were quite a few editors who took the time to engage/entertain me, one of which was an editor at Vogue. PR at its core revolves around relationships; foster them by any means necessary!
The DMV-NYC roundtrip-in-a-day trip hustle is tiring. I prep everything needed the night before. I lay out my clothes and shoes, and pack samples, notes, line sheets, magazines, snacks, antibacterial wipes, bottled water, Tide-to-go pen, lotion and change of shoes in my travel bag, so when I wake up at 5am to pump, there's nothing to do except get Nick and myself ready. Even with such preparation, it's still a mad dash, because I have to drop Nick off promptly by 6:30 when school opens, and drive from Laurel to Baltimore to catch the 7:30 bus. Yea, crazy, I know, but I've yet to encounter traffic delays, and tend arrive with minutes to spare.
My desk-side was scheduled for noon. Megabus dropped me off at my FIT bus stop at 10:50, and I headed straight to One World Trade. I always take some time to pause, breathe and review my notes for the 100th time before heading up. Once scanned, checked and called up to my floor, I set up shop and merchandised samples. I also wore one of the dresses from the collection. #PRPerks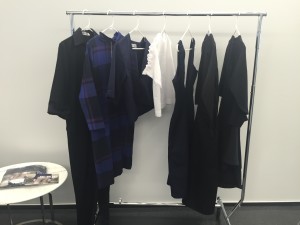 The setup. I merchandised samples by season and hue.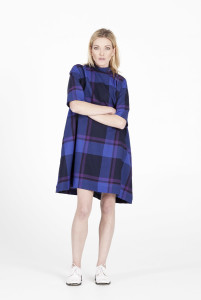 Dress I wore (much better than the model ;-).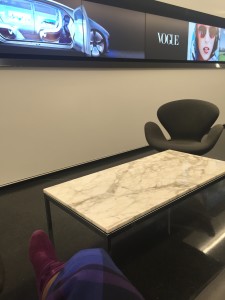 Kicked back and waiting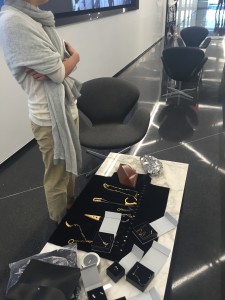 I broke the collection down briefly: aesthetic, price, key points, and the editor took snapshots of everything for future reference. We chatted for 15 minutes tops, and I was out the door. So much prep, 3+ hours of travel and only a few minutes to make an imPRession. Post desk-side, I stopped by the Conde Cafe for bites with a view.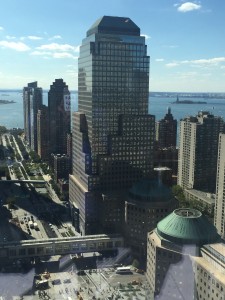 After meeting my meeting with a potential client, I chugged back a few a glasses of wine, and headed to 34th and 11th to catch the bus home. NYC and back in 12-hour span, and made it home in time to bathe PRince Nick and read him a bedtime story. All in a Comm Moms days work.