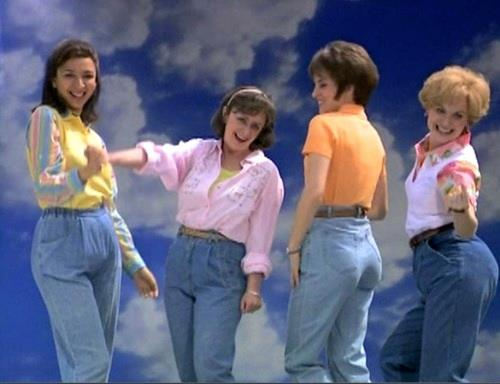 Gone are the days of the unflattering, high-waisted denim disasters of our mothers. We've thankfully evolved, and present day "Mom Jeans" are bold, bright, fitted and available in several cuts and washes. Jeans are a Comm Mom necessity, as they can be dressed up or down and take us from the office, to a business lunch, to a playdate. Spring is here, and it's time to add new denim to our closets. Jean trends include pastels, florals and striped prints. And you can't go wrong with a classic blue wide leg, skinny, or boyfriend jean.

Jessica Alba is polished in her pastel "Mom Jeans" (She's my mom style crush). 
Image Credit:  YourNextJeans.com
For me, it's a badge of honor to wear "Mom Jeans", because I look great in them. And you can too. Check out some of my top picks below and ways to wear them.
Neutral shades compliment pastel denim, but black will offer a nice contrast. Top your boyfriend jeans with a tank and a structured blazer. The floral pair will look great with a 
Chambray button down
. I think the black and white striped pair needs a pop of color, so opt for cobalt blue or neon hues. I'd pair a cute crop top or tee with my wide legs, and maybe throw on a blazer, depending on the weather.
When shopping, make sure you try the jeans on. Don't go by the size you think you wear. Don't go by the size that you already have in your closet. One size jean does not fit all. Find a pair that flatters your shape, and know that the same size jeans may fit differently depending on the brand, stretch, etc. Failure to do will result in mom ass – you know, that long, flat, shapeless ass attributed with 90s' "Mom Jeans". But no worries; the perfect pair awaits you. And when you find them, wear them PRoudly. I know I do.