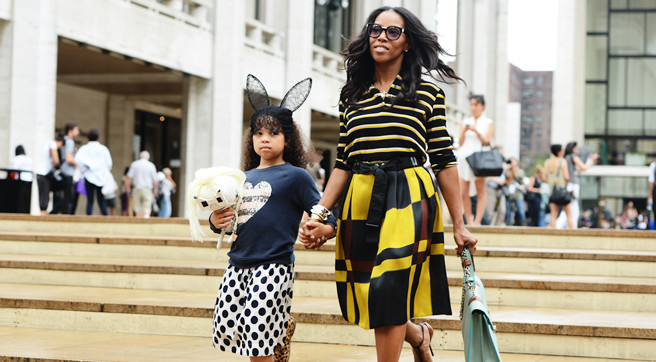 The featured image lures you to believe that motherhood and fashion live harmoniously; effortlessly, even (June Ambrose is such the Rock Mom!). If only it were that simple – leaving the tents with a smartly dressed child in tow, while waiting for Uber to arrive. Ironically, I dashed down those same stairs this past Mercedes-Benz Fashion Week to pick up my wailing PRince. I'd just viewed Tadashi Shoji and Candela's shows, all while communicating with my daycare provider. She called mid fashion week fun saying that Nicholas had cried, literally, for about 6-hours. So, instead of heading to Milk for another show and backstage interview, I was switching from pumps to boots, and booking it to the 3 train to Harlem.
Disappointed that my fashion adventure ended as soon as it'd begun, I wondered if I'd ever resume my normal fashion routine. En route, I bumped into stylist/blogger, Marian Kihogo. She asked the standard fashion week question, "Which show are you headed to?" and I filled her in on the scenario, and my change of plans. She was sympathetic, but quickly placed things in perspective. I live for fashion, but family takes precedent. Children are the greatest blessing, but they can hinder PRogression depending on timing and if allowed. So I pose the question, can (young) mothers thrive in fashion?
Sure, there are successful fashion industry moms, but most of them are 35+ (please correct me if I'm wrong). I Googled mothers in fashion and found nothing. I searched for pregnant fashion editors, and got ONE hit, which I found odd since maternity leave was the trend SS13 show season. While pitching show invites, the standard OOO response was, "I am on maternity leave until __. Please contact my assistant Amanda if there's an emergency." Perhaps it's a matter of privacy. It seems the majority of fashionably employed women keep their family's under wraps, or they are ignoring their biological clocks – both of which I understand. An established career typically precedes marriage and family. It's far easier than the reverse. But there are cons to prolonging procreation. After all, once the story is put to bed, the shoot wraps and the last air kisses are blown, an empty Tribeca apartment awaits you. You've traveled the world, and have Marc Jacobs on speed dial, but your family life is nonexistent. Two sides to the coin, indeed.
I sometimes long for the days when showroom visits, lunches and launches, photo shoots and fashion shows were my PRiority. Though I still get my fashion life, it's in smaller doses. When I arrived to pick up the PRince from his DCP later that evening, his tears immediately subsided, and he clapped his hands and cheered, "Yayyy!" In that moment, I knew that my place was with Nicholas – not at Milk Studios. My baby is getting older, and I'm easing back into my  groove. Fashion will be around forever, but Nicholas will only be a baby for a short while, so it's important that I take the time to enjoy these limited moments. I may have to pass on a project, or spend the night away from my baby to attend a client event, but nothing worth having comes without sacrifice. Family and fashion can (and will) co-exist, it's just a matter of me figuring out how. I'm taking things one day at a time.
Image Credit: FreshKidNation